Looking for the best plus-size swimwear for this summer and beyond? You're in the right place. You should never have to settle for just functional plus-size bathing suits – they must meet your expectations! That's why we've ranked the best options out there, arranging them by category so you can easily jump to your new fave one-piece, swim dress or plus-size tankini.
Before you make a purchase, don't forget to read reviews online so you know what you're getting into. You can find more information about each company mentioned here by clicking on the specific review pages.
Ready to dive in? Here's our list of the best plus-size bathing suits for curvy women.
Best for One-Piece Swimwear
Think one-piece bathing suits aren't modern enough? Think again. These companies offer a variety of plus-size one-piece swimsuits that are flattering, comfortable and even sexy — the perfect combination for a day at the beach or pool.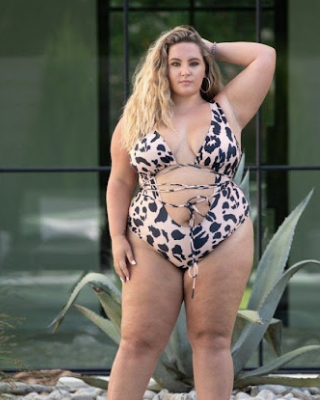 Luxury lifestyle brand Curvy Fox specializes in plus-size fashion, selling high-quality styles that help you feel confident and comfortable. The company sells plus-size swimwear (both one-piece and two-piece), lingerie and loungewear. All swimwear options are affordable, colorful and flattering.
Shipping and return policy: Curvy Fox offers worldwide shipping. Shipping fees are non-refundable. All sales are also considered final — you cannot return or exchange any items sold by Curvy Fox.
Read Reviews
Best for Bikinis
A good plus-size bikini — one that shows what you want it to show, but covers up what you want to keep covered — is hard to find. These websites are your best bet.
Best for Tankinis
Tankinis are the perfect compromise when it comes to swimwear. They provide plenty of coverage if exposing a lot of skin isn't your thing, but they still offer a little bit of space to play with. Take a look at these plus-size tankini options from brands reviewers love:
Best for Sustainable Swim
It's no secret that the fashion industry hurts the environment. That's why we've rounded up a few of our favorite sustainable swimwear brands for you to peruse. Find your new favorite swimwear and feel good about helping the environment? That's a win-win.
Best for Sexy Swim
You deserve to look and feel your best at the pool — but you might have struggled to find sexy plus-size swimwear in the past. Thankfully, there are now brands out there to help you feel confident, sexy and comfortable at the same time. Here are two reviewer favorites:
Best for Swim Shorts
Plus-size swim shorts are a great option for the summer: They can look cute, protect your thighs from sunburn and provide a little more coverage if that's what you're going for.
Best for Swim Dress
Swim dresses are a fun way to show off your style while you hit the beach or the pool. Check out reviewers' favorite spots to find a plus-size swim dress below:
Find Your New Favorite Plus-Size Swimsuit
Finding cute plus-size bathing suits might sometimes seem like a losing battle. But with this list of reviewer-favorite brands, you can find affordable, high-quality options that will help you feel confident and gorgeous as you enjoy your summer.